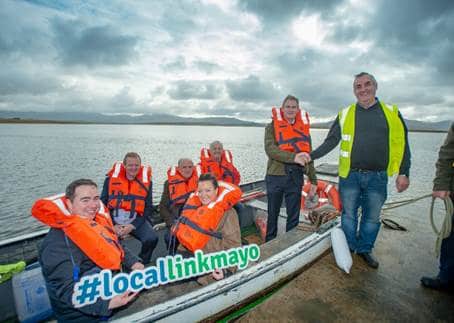 Minister of State Seán O Cadhain pictured with  Michael Keane (Keane Bus Hire) on a recent visit to the Island.
A ministerial visit to Inis Bigil Island took place on Friday October 25th 2019.  As part of the visit Minister of State Seán O Cadhain meet with representatives from TFI Local Link Mayo to discuss the importance of transport services for island dwellers.  At present An Roinn Cultúir, Oidhreachta agus Gaeltachta subsidies transport to connect the Island to the mainland at Ballycroy.   The service prevents rural isolation and enhances the mobility, accessibility and provides much needed opportunities for community participation.
Inis Bigil Island Service operates seven days per week and provides vital access to essential services such as medical appointments, shopping, post office, banking, going to mass as well as providing the opportunity to attend community services provided by Ballycroy Community Council and the social services group.
The ferry service is operated by one of the Islanders Michael Lenaghan using an open boat that accommodates up to 8 passengers per service.  A feeder bus meets the service at Doran's Point and this is provided by Keane Bus Hire, Ballycroy.
To book your place on TFI Local Link transport contact 094 9005150 or email: mayo@locallink.ie