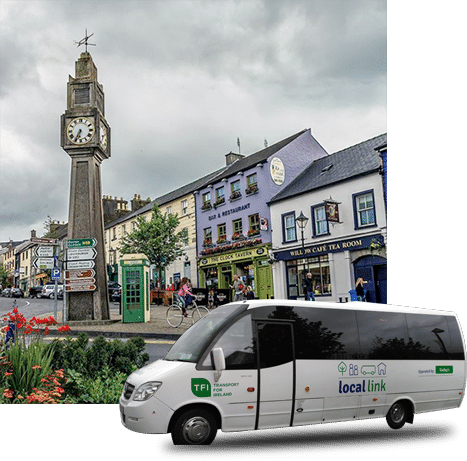 About Us
TFI Local Link is the national brand for the Rural Transport Programme that is managed by the National Transport Authority.  The aim of TFI Local Link is to provide quality nationwide community based public transport in rural Ireland that responds to local needs.
The Company Mayo Community Transport T/A TFI Local Link Mayo co-ordinate the delivery of rural and community transport services under the TFI Local Link brand for the NTA and HSE.   The company manage over 60 public transport services that include regular rural services, door to door services and a community car.  In addition, closed shared transport is arranged on a referral basis for HSE Primary Community and Continuing Care department.  This contract enables people with disability, mental ill health, and older persons to attend training centres, day service and vocational programmes where there is no public transport available. 
TFI Local Link Mayo have a contract with the Department of Rural and Community Development to manage the ferry service at Inisbiggle.  This links Island dwellers to the mainland daily.  This contract includes a bus service linking islanders to the TFI Local Link routes to Belmullet and Achill as well as other public transport services. 
The company co-ordinate scheduled renal dialysis appointments to Mayo University Hospital seven day per week all year around.
Door to door services typically pick-up and drop-off passengers at their own door and bring them to where they need to go like the post office, community centre, health care service or to the bank.
Services We Are Providing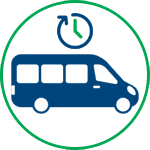 Public Transport
Public transport services include Door-to-Door route-based services with the added benefit, where possible of collecting and dropping off passengers at their homes; Regular Rural Services that operate on a fixed route and a Community Car.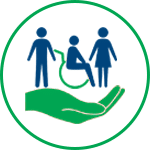 Primary Community and Continuing Care
TFI Local Link Mayo are contracted by HSE to deliver transport services where there are gaps in public service provision for adults attending day services, vocational training centre and specialised services. This transport is arranged on a referral basis through the HSE.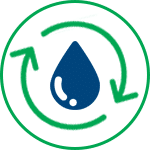 Renal Dialysis
TFI Local Link Mayo are contracted to deliver transport services to renal dialysis patients attending Mayo University Hospital. This transport is arranged on a referral basis through the hospital.
Testimonials
Testimonials
We had a great trip to Donegal and must say our driver was very helpful and accompanying. Attached is a photo of the group and the other on board the bus Hope this will be of benefit. Thank you for your help and look forward to using Local link sometime in the future.
August 21, 2019
Above & Beyond  "The driver Caolan carries my bags out of the shop and to my house, he does not have to do half the stuff he does for me. He is fantastic!"
Castlebar Passenger, September 2021