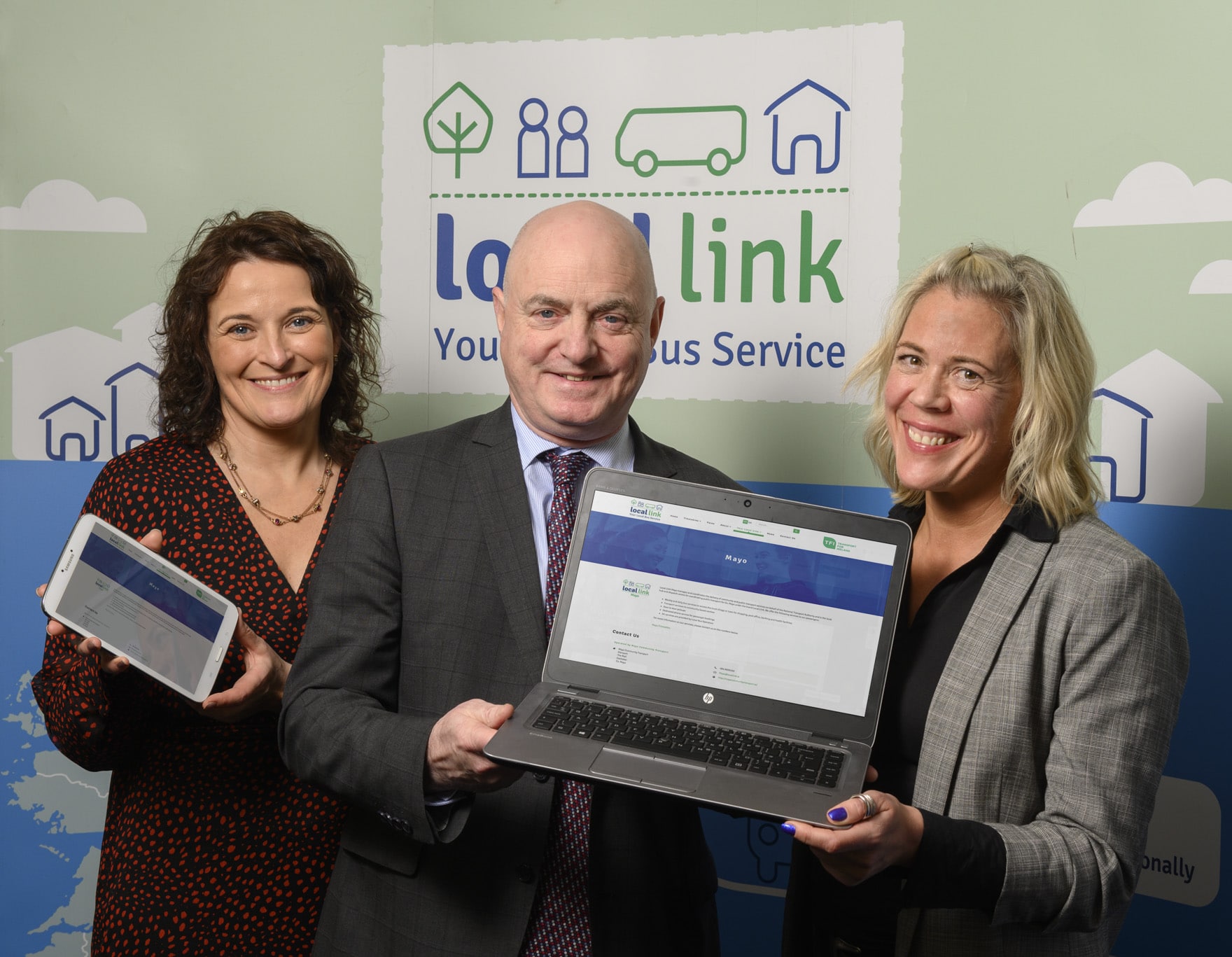 The Wheels Keep Turning at TFI Local Link
TFI Local Link Mayo, rural transport service has announced the launch of their new website www.locallinkmayo.ie making it easier for people in the County Mayo to find out about TFI Local Link public transport routes.  Passengers can now make an online enquiry through the website on their computer or mobile as the website is mobile responsive.
TFI Local Link Mayo have consulted widely with passengers, community groups and agencies over the last year and have found they are looking for easily accessible information about bus routes available rather than search through timetables.  Through the website users will be able to find up to date information regarding TFI Local Link news, details of contracted operators in their area and there is an option to complete an expression of interest form to propose new routes and services.
Speaking about the website the Manager Sarah Togher said "TFI Local Link provides a valuable service connecting people who are isolated throughout the county to their local towns and villages to access service.   As the services grows over the coming years it will be easier to for passengers to source information quickly and in the future, we aim to incorporate online booking facilities for passengers to the site.
For intending passengers not online they can contact the office directly by phone on 094 9005150 for information.
For more information contact: – 
Sarah Togher
Manager
Mayo Community Transport
T/a TFI Local Link Mayo
Glenpark, Castlebar, Co Mayo
Tel: (094) 9005150
Mobile: (086) 8173631
Website: www.locallinkmayo.ie
About TFI Local Link
TFI Local Link Mayo currently offer over 46 weekly affordable TFI Local Link bus routes throughout Mayo.    The team at TFI Local Link Mayo also co-ordinate transport services for a number of agencies.    Other services include HSE scheduled dialysis appointments to Mayo University and Primary Community and Continuing Care (PCCC) for individuals attended HSE day services and supports.
In addition, the Department of Culture, Heritage and Gaeltacht fund an all year around ferry service for Inisbiggle Island dwellers to the mainland.  This contract includes a bus service linking islanders to the TFI Local Link and public transport services.  The department also fund seasonal routes to the National Park and Greenway from Westport to Ballycory.
The objective of TFI Local Link Mayo is to provide a quality county wide community based public transport system which responds to local needs. It provides both Demand Responsive (door to door, on request) bus services as well as scheduled bus services on fixed routes.