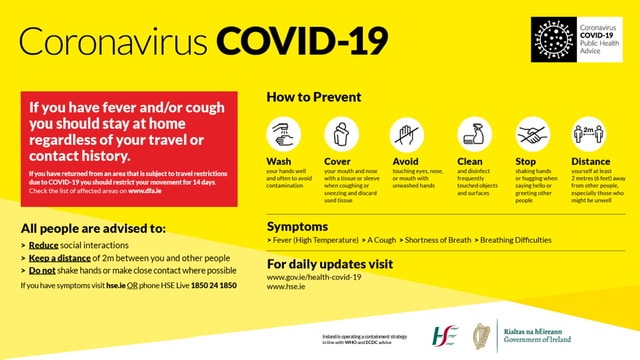 Coronavirus COVID-19 Update
Last updated at 6.29pm on 15/03/20.
The National Transport Authority have confirmed full public transport services are continuing to operate, other than a limited number of commercial services – for a list of these services please visit the Transport for Ireland website.
In line with the announcement by government on Thursday March 12th , the National Transport Authority confirms that public transport services will continue to run as normal next week with regular updates to be provided over the coming days.
Please check operator websites for more details of cancelled or curtailed services.
All TFI Local Link services shall continue as normal and will be implementing their normal schedule of services on the Saturday, 14th March and Sunday, 15th March.  Other than St Patrick's Day on the 17th March, public transport services will run a normal scheduled service next week.
In addition, a number of Local Link services are offering to deliver critical medical supplies to the elderly, the vulnerable and sick within rural areas during the coming weeks.
Those in need of such support should in County Mayo must contact TFI Local Link Mayo on 094 900 5151 or email mayo@locallink.ie
The COVID-19 situation continues to evolve in Ireland, and Transport for Ireland is aware that this uncertain period is concerning to many throughout the country.
The Authority and public transport operators continue to follow all public health guidelines issued by the Chief Medical Officer and the HSE. As always, please continue to be considerate to one another when using public transport, practise social distancing, regular hand-washing and remember to cough/sneeze into your elbow.
For further information on the Covid-19 please visit the Coronavirus page on the HSE website.